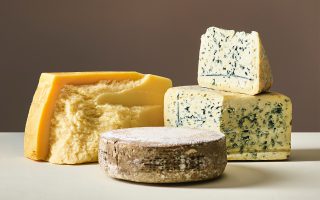 Perhaps French cheese is one of the most famous in the world. It is not to wonder, since there are over 1,000 types of cheese produced in France, varying between the poignant and strong blue cheese, such as the notorious Roquefort and creamy cheese such as Brie.
There are many things the French are renown for, and their cheesemaking tradition is one of them, keeping to centuries old techniques to produce top quality cheese that will be sold in fromageries and celebrated in different corners of the world.
Camembert, the name comes from the village where it was created in Normandy. It's origin only dates back to the 18th century, yet despite it's youth it is one of the most popular and acclaimed French cheese. Brie de Meaux, there are records that document Brie's existence in the times of time of Charlemagne, back in 774, when he tasted it in a little French city, Brie. It has a soft creamy texture and an almost sweet taste which reminds of certain nuts. The most ancient French cheese is Roquefort, first mentioned (that records remain) in 79 A.D. by Pliny the Elder. It has a very strong and poignant taste and aroma.
Boursin is delicious creamy cheese and favourite of many chefs around the world, it is incorporated into many dishes because of its characteristic taste. Reblochon origins dates back to the middle ages. Its name means "to pinch a cow's udders again". It may sound a little strange, but it has an explanation. During the Middle Ages some farmers from the mountains of Haute Savoie decided to outsmart the tax collectors. A number of diaries in Alsace still produce Munster cheese the same centuries old way. Pont l'Eveque was created around the 13th century. It's original name was d d'Angelot, however it evolved to the name of the Norman village where it's produced. It is a rich cheese, produced with almost pasteurized milk with a full and salty flavor and soft texture. Original from the heart of burgundy, Epoisses was first produced by monks. It is said that it was one of Napoleon's favorite cheese. Chèvre means goat. When the Saracens invaded the west of France in the 8th century they brought their goats and left them behind along with instructions of how to produce the cheese.
In France, bread is an art form and an institution, with some 34,000 boulangeries making bread five or six days a week for the 70% of French people who buy locally-made fresh bread. The baguette is as symbolic as the Eiffel Tower, Louvre, or Fleur de Lys. Our baguettes are baked fresh every day and come with our compliments.
Bread is the centrepiece of every meal, the average citizen believed that it was impossible to overindulge on bread.
So what makes French bread so damn good?
The 1993 French Bread Law, or "the Bread Decree", outlines how bread should be produced and sold in France. To be called a "boulangerie", a bakery must make its own bread fresh on-site, no pre-made dough allowed. A baguette must weigh 250-300 g, be 55-65 cm long, and any bread labelled "tradition française" must be produced following a very specific recipe.
The properties of these ingredients, being so simple and pure mean there is another requirement for a good French bread: "always eat it fresh."
To have a good bread it's important to eat it as fresh as possible. Some can be kept for several days but its better when it's just come out the oven. In France it's possible to eat fresh bread because there are bakeries everywhere and bakers make bread every day. The more bakers there are, the better the bread is.
Finally, even the climate matters. It's not commonly known but the region and the weather where you mill the flour and make the bread is important for the texture and the taste of it.
Let's go back to the beginning.
The art of bread making came in France (Gaulle at this moment) with the invasion of the Romans and Julius Caesar. Then throughout history, making bread and its ingredients have improved. Bread has become sacred and it also fortifies the survival of people against famine, while provoking revolution when it runs out.
The biggest faux-pas is not chewing the oyster: "It brings out the sweetness and brininess, and of course the umami. You'll miss out on a lot of that if you're swallowing them whole. Another mistake is pouring out the juice – or the liquor – from the oyster: "The liquor gives you a great indication of what's to come. So take a sip, process the taste.
Different oysters have different flavours and textures
A Carlingford oyster (a sweet meaty oyster from the Irish coast), through to the Lindisfarne (a seaweed munching little guy with the fresh taste of cucumber), and on to the Gillardeau (The 'Rolls-Royce' of oysters with a rich buttery texture.)
An oyster's origin has a big effect on the taste, and it seems quite obvious – river oysters feed from water that's run off fields and farmland, giving it an earthy minerality.
Those that are found out at sea, meanwhile, have less of that minerality, with a sharper, brinier taste.
Oysters from Morecambe Bay
Some of the tastiest oysters come from less-than-glamorous locations – Morecambe Bay may be a faded tourist resort, but the pristine shellfish water that laps its salt marshes make for delicious oysters.
And while some see oysters as a luxury food that should be served up with a glass of bubbles, Some people prefer a crisp coastal white wine, or a glass of stout, like Guinness. It's a pairing which goes back almost 200 years.
Enjoy them any way you want – they're on our menu most days.
It's difficult to resist a perfectly ripe strawberry, but did you know just how good they are for you?
The strawberry season in the UK is short and runs from the end of May through July. To achieve maximum yields during this short season, farmers need to protect emerging berries from the muddy soil. Traditionally, this was done by spreading a layer of straw around each new plant – hence the name strawberry.
Fit for a king
Like many other fruits, strawberries make their claim in history as a luxury item enjoyed only by royalty. It has been alleged that newly weds were entitled to strawberries with soured cream as a wedding breakfast, believing them to be an aphrodisiac.
Healthy benefits strawberries
Strawberries are an excellent source of vitamins C and K as well as providing a good dose of fibre, folic acid, manganese and potassium. They also contain significant amounts of phytonutrients and flavanoids which makes strawberries bright red. They have been used throughout history in a medicinal context to help with digestive ailments, teeth whitening and skin irritations. Their fibre and fructose content may help regulate blood sugar levels by slowing digestion and the fibre is thought to have a satiating effect. Leaves can be eaten raw, cooked or used to make tea.
British asparagus season is a national event in the world of restaurants. For a short period of time each year, chefs around the UK can source arguably the best asparagus spears available from right here on British soil.
The buzz it creates is astounding, but it's well and truly deserved. The quality is sublime and its limited availability only adds to the hype.
As always, the start and end of the season shifts from year-to-year depending on weather conditions. But traditionally, the British asparagus season runs from St George's day on the 23rd April through to Summer Solstice on the 21st June.
That's just 8 and a half weeks to make the most of this fantastic crop. And in some years that window of opportunity can be even shorter.
Over and above supporting our fantastic asparagus growers around the country, the main reason why chefs go crazy for UK asparagus every year is due to how phenomenal the flavour is when it's fresh.
All fruit and veg is at its very best when freshly picked, but asparagus spears in particular are known to decline in quality at a faster rate. So shipping it in from abroad after it was picked a week ago doesn't make for the best quality product.
Serving British asparagus after it's only been picked a day or two ago, however, is another story. As most chefs will know, it requires little fancifying and boasts incredible flavour that demands the attention of the diner.
Now appearing on our À la carte menu:
Roast Pheasant Breast wrapped in prosciutto, turnip mash, red wine, puy lentil and winter vegetable cassoulet.
Pheasants are  quintessentially English bird with the distinctive blue-green head and speckled tawny body.
Pheasant season in the UK begins on the first of October and ends in February. Once the birds have been hung for at least three days after the hunt, their feathers plucked and bodies gutted, they make a fine meal, particularly when combined with seasonal quarry such as chestnuts, apples, squash, celeriac, mushrooms and cobnuts. Young pheasants are wonderful roasted, while older fowl are fine for pies, pot roasts and casseroles.