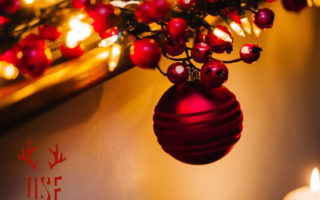 Christmas Party Season 2nd – 21st December 2019
Quite Simply French is even more magical at Christmas. From family celebrations to large office parties, our Christmas menus offer great food and great value for those festive get togethers in the run up to the big day.
From the day we opened (1st December 1996) as Lancaster's best Restaurant, we have invested in Quite Simply French and this year is no different. Our stairs and upstairs restaurant have had a fabulous makeover courtesy of Michael Ellis Painting and Decorating.
"I can not praise Michael and his team enough. They delivered the project on time and on budget and their attention to detail and pride in their work is second to none. They were a delight to work with, nothing was too much trouble. I would absolutely recommend them" Robert Mason
There number of things that are key to creating a successful restaurant.
Great Food
Great food is key of a successful restaurant. This one is a no-brainer.  No matter what you do, if the food at your restaurant is not great, people will not return.
Staff Satisfaction
Behind a successful, well-functioning restaurant, there is an efficient and loyal team. A happy team is a productive team.
Guest Experience
Excellent customer service is an inherent trait of a successful restaurant business. Customer service constitutes the entire customer experience, right from the politeness and helpfulness of the staff, to the service—how soon the food arrives, the price of the dishes and restaurant ambiance.
Romantic Valentine's Dinner
Valentine's Day, also called St. Valentine's Day, holiday (February 14) when lovers express their affection with greetings and gifts. The holiday has origins in the Roman festival of Lupercalia, held in mid-February. The festival, which celebrated the coming of spring, included fertility rites and the pairing off of women with men by lottery.
Two Courses £39pp | Thursday 14th February 5.30 – 9.30pm
Book online
APPETISERS
MARINATED HOT OLIVES £4
Herbs de Provence, garlic, olive oil
OLIVE OIL DIP £2.50
Balsamic reduction + parmesan
UNSHELLED SMOKED PRAWNS £6
Sautéed in olive oil, garlic + onion
SAUSAGES, CHORIZO, BACON £6
Pan-fried with garlic, parsley, onions + croutons
CHAMPAGNE and OYSTER £10.50
With fresh lemon
OYSTERS £2.75 each
On ice,sweet chilli sauce + shallot, red wine vinegar
STARTERS
Served with freshly baked French baguette
BAKED CAMEMBERT | SHARING PLATTER FOR 2
Selection of cured meats and pâtés, fruit compote, piccalilli + garlic ciabatta
SHELLFISH BROTH MADE TO ORDER
Bouillabaisse stock, root vegetable brunoise, fennel shavings, crispy pork belly lardons + brioche croutons
PANFRIED WOOD PIGEON BREASTS
Parsnip fondant, port, rosemary jus + crispy pancetta
SPICED MONKFISH SCAMPI TEMPURA
Curried tartare sauce, rocket + chive oil
CROTTIN DE CHAVIGNOL FILO PARCEL
Steamed green beans + basil, tomato consomme
MAINS
Steak French style. Rare is red, Medium is pink. Medium Well is a little pink. Well done is cooked through.
Served with Dauphinoise Potatoes to share.
SURF AND TURF TO SHARE FOR 2 ££5PP
Half lobster and rump steak each, frites + Aioli mayonnaise
GUINEA FOWL SUPREME
Apricot, pistachio duxelle stuffing, wrapped in smoked bacon, port jus, wild mushroom arancini + carrot puree
DUCK BREAST SERVED PINK
Crushed celeriac, jerusalem artichokes, prosciutto wrapped tenderstem broccoli + red wine, redcurrant, black pepper coulis
POACHED SALMON FILLET
Fricassee of kale, broccoli, sugar snaps, lemon, dill beurre blanc + chargrilled tiger prawns
COD FILLET
Sweet potato, beetroot, feta cheese rosti, tomato, queenie scallop + chorizo concasse
SPICED HALLOUMI FRIES
Quinoa stuffed pepper, butter bean + pumpkin mash
SIDES
Serves 2 to 4 people
TOMATO MOZZARELLA SALAD £5
Balsamic reduction
FRICASSÉE OF SAVOY CABBAGE £5
Smoked bacon + baby onions
WINTER GREENS STIR FRY £5
Poppy seeds + basil oil
HANDCUT FRITES £5
Parmesan shavings + Truffle oil
DESSERTS
CHOCOLATE FONDUE TO SHARE £16
Belgian white or dark chocolate with forest berries
SIGNATURE CHEESECAKE £7.50
White chocolate cheesecake + raspberry coulis
STICKY TOFFEE PUDDING £7.50
With cream
CRÈME BRÛLÉE £7.50
Amaretto
AFFOGATO WITH FRANGELICO SHOT £7.50
Vanilla ice cream in espresso + shot of Frangelico Liqueur
GOURMET ICE-CREAM £7.50
Homemade Cointreau, dark chocolate + honeycomb
GOURMET SORBET £5
Crème de framboise + summer berries
CAFE GOURMAND £8
Mini crème brûlée, raspberry and white chocolate eton mess, ice cream + coffee
DARK CHOCOLATE BROWNIE £7.50
Hazelnuts, cherries, Vanilla ice cream + chocolate sauce
FROMAGE £8
Selection of French cheeses, biscuits +chutney
Both these esteemed awards acknowledge and reward the exceptional work of trailblazers, by looking for those whose commitment to excellence is second to none.
Robert is thrilled. "The perfect team – is one that works as a family and values each other. The minute you walk into a business you can tell immediately if a team is happy, it is so important, it sets the tone for everything."
Our Mussels are sourced sustainably.
They taste incredible simply steamed in a light shallot sauce or added to other dishes for a seafood mix.
The joy of extracting succulent offerings from gaping shells and soaking up the fragrant broth with pieces of crusty-soft bread.
A complete sensory food experience.
Head Chef John takes time and care in choosing the best, most seasonal ingredients for our menus. He is a master in the cooking of Mussels,  they taste incredible simply steamed in a light shallot sauce or added to other dishes for a seafood mix.
We're proud to be working with brilliant British suppliers who source the very best produce.
Outstanding Service Award
We won  Lancashire Life Outstanding Customer Service Award 2018 at the splendid Food and Drink Awards ceremony at Ribby Hall Village.
Announced on the night, so a surprise to everyone, the award was collected by our Restaurant Manager Laura Quelina and Assistant Manager Jen Knowles. Both were very emotional,
Laura said " This award means so much to everyone who works at Quite Simply French. It really is an acknowledgement of all our dedication and hard work in making sure our customers have a great experience"
Rob was equally thrilled. "The perfect team – Is one that works as a family and values each other. Honestly, I never feel like the owner and all of my team members views are as valid as mine. I am very proud of them all."
We only use the finest, fresh, seasonal ingredients from local and specialist producers and our innovative menus change daily. The misnamed Jerusalem artichoke has no real link with Jerusalem, and isn't related to other artichokes. It looks a bit like a knobbly pink-skinned ginger root and has a sweet, nutty flavour, reminiscent of water chestnuts.
Head Chef John takes time and care in choosing the best, most seasonal ingredients for our menus. Jerusalem artichokes are deliciously sweet, crunchy and nutty and are a sources of B vitamins thiamin and niacin, and iron.
We're proud to be working with brilliant British farmers who grow amazing local produce.
TA DAH…here at QSF, we're celebrating our stunning brand refresh and new website. Thanks to Better with Jam, our brand marketing agency, you've done us proud!
The project included refreshing our brand and designing and building a new website to create a enhanced online experience for all our lovely new and loyal customers.
We both wanted to take the Quite Simply French brand to the next level. The creative idea was to highlight what makes us special and unique " high quality, fresh, seasonal produce and exotic ingredients" without losing our "warm, friendly and much loved service, team and restaurant style"
Creative Director, Lynda Caine's ideas to refresh the brand was to create a suite of iconic images t0 communicate our unique style. She and Senior Designer, Peter Kennedy-Lane, travelled to Leeds to art direct the photo shoot at Powerhouse.
Powerhouse is the North's leading photo studio with 14,000 sq ft. of studio space, 9 photographers, 7 studios, 5 producers, 4 studio support staff, 3 creative directors, 2 marketeers and 1 whole motion department. Their client list is impressive including M&S, Sainsbury's, Unilever and Fever Tree.
Web functionality includes booking online and buying gift vouchers.  Better with Jam supports Quite Simply French with advertising campaigns, marketing strategy, PR, photography and art direction, graphic design, email marketing and social media.
Robert Mason…''We are thrilled with the results. It really is a testament to the deep understanding of the team at Better with Jam and their creative excellence. We spent much time together in the planning to inform and improve the customer journey and experience. We have been working with them for over 15 years and they continue to surprise us with their creativity."
Something of a Cinderella story, sea bass has grown significantly in popularity over recent years with chefs and home cooks alike coming round to the versatility of the firm white fish. In addition to the juicy texture of the flesh, part of the appeal of sea bass is its attractive silver skin which cooks beautifully and looks striking on the plate
Head Chef John takes time and care in choosing the best, most seasonal ingredients for our menus.
He celebrates SEA BASS FILLETS with this dish on our A la Carte Menu.
Pan-fried with crispy bacon, roasted red pepper, tomato & basil concassee with chargrilled tiger prawns and asparagus
We're proud to be working with brilliant British suppliers who deliver amazing local produce every day. We only use the finest, seasonal ingredients from local and specialist producers and our innovative menus change daily.
Eating raw oysters is a uniquely invigorating experience; a bit like battery-licking for grown-ups. It seems that we can taste the elements they contain: zinc, calcium, copper, iodine, magnesium.
Served as a starter on our À la carte Menu OYSTERS on  ice with shallots, red wine vinegar and sweet chilli dip.
And no other food conjures up a physical feature of the Earth as strongly as a bracing, salty, tangy oyster: the essence of the sea in edible form.
Oysters should be stored at a low temperature and smell briny-fresh. The shells should be clean, bright, tightly-closed and unbroken.
Size, shape and flavour vary considerably. The best from British and Irish waters are considered to be those from Colchester, Whitstable, the Helford and Galway. Natives are pricier and generally thought of as the superior oyster. Pacific or rock oysters tend to have a frillier shell and smaller, milder meat.
Shells found on archaeological sites indicate that people were eating oysters 6,000 years ago (how did they open them without an oyster knife?).
For much of recorded history they have been regarded a simple form of sustenance, punctuated by occasional periods in which they reached the status of delicacy. In Britain they shifted from stomach-filler to luxury food with the arrival of the Romans, largely disappeared from the diet after they left, before returning to favour sometime around the eight century.
By Victorian times, pickled oysters were a common food of the poor in London (and in the American South in the early twentieth century the Po-Boy, a type of sandwich featuring oysters in a baguette, fuelled blue collar workers). The era of cheap oysters came to an end quite abruptly after oyster beds became exhausted due to overfishing and pollution.
Here at Quite Simply French, our team is a family, with the same respect given to everyone no matter what job they do. Great food, expertly cooked and served by friendly waiting staff… that's the secret to our success.
The thing about Rob and his team is they will greet you like old pals when you arrive and remember your coat when you leave.
Absolutely every member of the team wants you, their guests, to have a flawless dining experience beginning with the welcome at the front door and continuing throughout the meal until you say "Au revoir"
QSF's philosophy is that the most crucial element to a restaurant's success is pleasing the customers.
Book now. Don't be disappointed. Don't miss out on the day and date you want for your Christmas bash. We care about every wonderful moment and the experiences our customers have with us especially at Christmas time, and nothing pleases us more than a happy customer.
Small team get togethers to large office parties; whether it's for Christmas Lunch, Christmas Early Bird or Christmas Dinner we'll make sure you'll have a party to remember.
Christmas Party Season – 1st – 22nd December.
Christmas Lunch and Early Bird
Tuesday to Saturday | 12 – 2pm (last food orders) | 2 courses £20
Monday to Saturday | 5.30 – 6.30pm (last food orders) | 2 courses £20
Christmas Dinner
Monday to Saturday | 6.30 till late | 2 courses £30
Christmas Sunday Lunch
Sundays | 12 – 2pm | 2 courses £20
Christmas Eve Lunch
Monday 24th December | 12 – 2pm | 2 courses £20
Christmas Eve Dinner
Monday 24th December | 5.30 – late | 2 courses £35
New Year's Eve
Monday 31st December | 6.30 – late | 4 courses £65
Terms and conditions
Parties of 9+ please book your table as soon as possible using a debit or credit card.
A £10 deposit per person is required to secure your booking. Cards will be charged for no-shows @£10pp.
The entire party MUST order from the same menu.
All prices include VAT at the current rate.
Email us with each diner's name and their menu choices 1 week before you dine (sometimes guests forget what they've ordered)
A discretionary 10% service charge is charged to parties of nine or more.
All gratuities and service charge go to the team that prepares and serves your meal and drinks, excluding all management.
Allergen information is available on request, please ask for further details when booking.
Gluten-free, vegan and other dietary requests, please let us know in advance, at least 48 hours notice
Early Bird Diners – please note that your table is booked for 2 hours.
Simply Squiffy is still on Sundays throughout December. It is the ONLY menu available.
No Steak & Mussels or Lobster & Champagne Offers during December.