Coronavirus Control Certified
We are now Coronavirus Control Certified. We underwent a rigorous assessment and evaluation and are delighted that we have been awarded the certification.
The Covid-19 Controls Audit is an assessment by Navitas of the safety controls that we've put into place at our business to keep our customers and staff safe.
Navitas Global Food and Health & Safety a single destination for all things safety in the hospitality industry. Navitas offers 5* safety for all digital food safety to compliance, audit and training.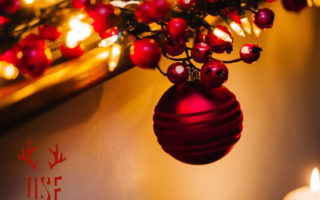 Christmas Party Season 2nd – 21st December 2019
Quite Simply French is even more magical at Christmas. From family celebrations to large office parties, our Christmas menus offer great food and great value for those festive get togethers in the run up to the big day.
Easter is a time of celebrations and family get-togethers at Lancaster's best restaurant. It's a lovely period for food – it is, after all, the holiday most synonymous with springtime and all the wonderful ingredients the season brings.
Lamb is traditional Easter Sunday fare, and there is plenty of inspiration in this collection for a roast to remember. As the shop aisles explode in an array of the sweet stuff, chocolate is something that cannot be neglected when discussing edible Easter treats.
Spring is a truly glorious time of year. Not just because it signals the end of a long, cold winter, but also because it brings a bounty of new ingredients into our kitchens.
The arrival of wild garlic (or ramsons) all over the English countryside. Walk through any wood or forest and you should be able to find some fairly easily – they're recognisable by their long, green leaves (and little white flowers later on in the season) but most of all, by the unmistakable smell of garlic! After that, we're treated to all sorts of world-class ingredients, from beautiful stalks of British asparagus to intense, nutty morels, which bring mushroom enthusiasts out of the woodwork come late April and May.
Celebrating the new season's produce is a fantastic reason in itself to dine with friends and family and with it two Bank Holidays as well as Easter  – all perfect opportunities to have a gourmet get-together.
Now appearing on our À la carte menu:
Roast Pheasant Breast wrapped in prosciutto, turnip mash, red wine, puy lentil and winter vegetable cassoulet.
Pheasants are  quintessentially English bird with the distinctive blue-green head and speckled tawny body.
Pheasant season in the UK begins on the first of October and ends in February. Once the birds have been hung for at least three days after the hunt, their feathers plucked and bodies gutted, they make a fine meal, particularly when combined with seasonal quarry such as chestnuts, apples, squash, celeriac, mushrooms and cobnuts. Young pheasants are wonderful roasted, while older fowl are fine for pies, pot roasts and casseroles.
Christmas Parties | Dinner
Monday to Saturday | 6.30 till late | 2 courses £30
It's going to be a Quite Splendidly Festive Christmas Party Season from 1st – 22nd December.
"My husband and I have been coming to QSF for some years now (Christmas parties, big birthdays, normal birthdays, meals out with friends, family get togethers, romantic dinners for two….any excuse really) an we can honestly say it is always great food AND great service. Whatever the occasion, no matter how many different 'evenings' are going on, Robert and his amazing team always make you feel your table is their priority. No mean feat with a place as popular as this. We've already booked our Christmas work party as we couldn't get in last year and we were gutted. Would highly recommend!" Ruth
Make an online reservation then use our food pre-order form
Is it your job to arrange the Christmas Party this year? If you're the Christmas Party Organiser, here's an extra special reward, just for you.
We care about every wonderful moment you have with us, especially at Christmas time, because nothing pleases us more than a happy customer.
Book your Christmas Party Lunch or Early Bird before 7th November, and we'll give you (the organiser) a £40 voucher to use at Quite Simply French in 2019.
Book your Christmas Party Dinner before 7th November, and we'll give you (the organiser) a £60 voucher to use at Quite Simply French in 2019.
Terms and Conditions:
Only valid for Parties of 9 or more.
Christmas Bookings for Lunch, Early Bird or Dinner only Monday to Thursday, dining from the same Christmas Menu.
Lunch and Early Bird menu – £40 gift voucher.
Dinner menu – £60 gift voucher.
Book online before 7th November 2018 put the code 60XMAS18 in the comments box
Gift Voucher will be emailed to you once you've had your QSF Christmas Party.
Gift voucher must be redeemed within 3 months.
If you do not redeem the voucher within the time it will not be valid.
Gift Voucher is valid only from Monday to Friday after 7pm.
Voucher can NOT be used in conjunction with any other offer or on Valentine's Day.
No cash alternative.
Here at Quite Simply French, our team is a family, with the same respect given to everyone no matter what job they do. Great food, expertly cooked and served by friendly waiting staff… that's the secret to our success.
The thing about Rob and his team is they will greet you like old pals when you arrive and remember your coat when you leave.
Absolutely every member of the team wants you, their guests, to have a flawless dining experience beginning with the welcome at the front door and continuing throughout the meal until you say "Au revoir"
QSF's philosophy is that the most crucial element to a restaurant's success is pleasing the customers.